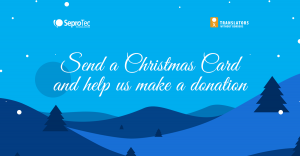 The custom of sending Christmas cards is very popular in many countries. Every year we send many Christmas cards to our loved ones wishing them a 'Very Merry Christmas'. However, have you ever wondered how it all began?
The Christmas card originated in the UK in 1843 by Sir Henry Cole who struggled with an extraordinary problem—he simply had too many friends! Writing a letter to each one with Christmas wishes took him too much time so he came up with an amazing idea. He ordered a drawing with a 'Merry Christmas!' inscription, replicated it a hundred times in a printing house and finally sent the result to his friends. The drawing showed a whole family proposing a festive toast.
As time has gone by, the design of Christmas cards has changed. Nowadays, cards have all sorts of pictures on them, for example, winter pictures, Santa Claus, a Christmas tree or even photographs of the senders themselves.
This Christmas at SeproTec we want to come back to the tradition of writing Christmas cards. Why? It's because we think it's a very unique way to show someone how much they mean to us. That's why we are giving you an amazing opportunity to send a Christmas card to someone special in your life—someone you love, someone you miss, someone you think about a lot. For each card we will make a 0.50 USD donation to Translators without Borders.
Thanks to you, this Christmas time will be more joyful!