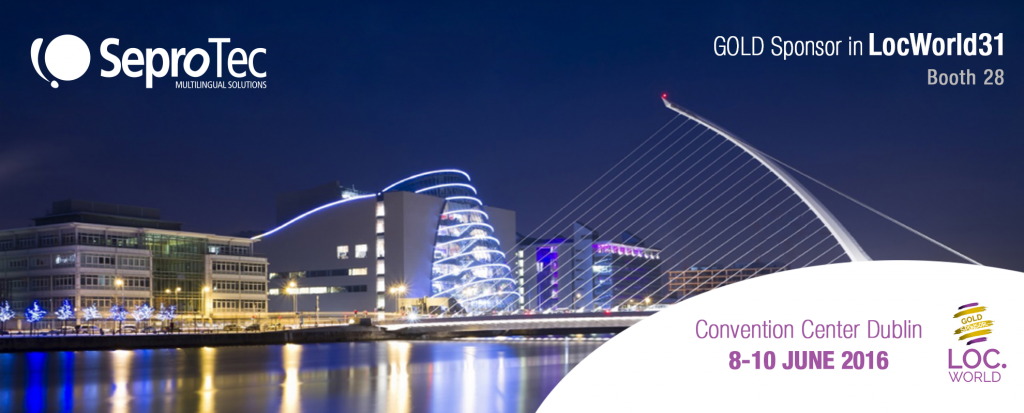 At a draw in the presence of a Notary Public, Patrick Porter, a Localization Engineer, has won the competition in which SeproTec offered the prize of a ticket for the next LocWorld to be held in Dublin from 8 to 10 June 2016. The competition, run through Linkedin, set out to reward professionals in Localization, Translation and Interpreting who were interested in attending one of the most eagerly anticipated events in our market sector: #LocWorld31, an event sponsored by SeproTec at which, moreover, you will be able to visit our stand (no. 28) and learn about all the latest company news from the Seprotec team.
As part of its goal of contributing to the development of the most innovative initiatives within its sector, SeproTec has shown its support for the LocWorld organization by agreeing to be a GOLD sponsor. The Company will also participate by sponsoring other specific actions, such as the provision of corporate bags for all those attending.
The event, which will be held at the Dublin Convention Centre from 8 to 10 June 2016, will not be the first LocWorld sponsored by SeproTec. However, it will be the first in which it will be a GOLD sponsor. This new undertaking, which is part of the Company's international expansion plan, is intended to contribute to the development of a solid and enriching event for the Localization sector, which is now celebrating its 31st edition.
All of us here would like to take this opportunity to convey our congratulations to Patrick Porter.