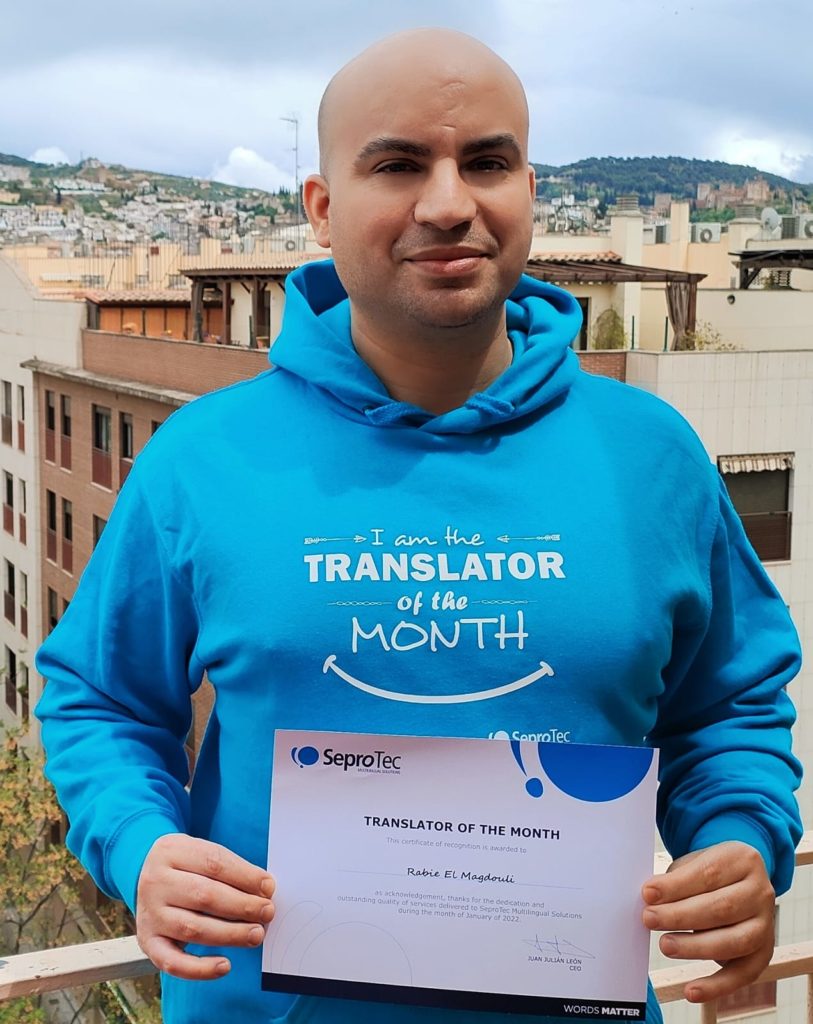 We are more than happy to announce the winner of the March 2022 edition of our Translator of the Month action.
Translators are the driving force behind every translation company's success. This initiative is our way of saying thank you and recognizing the efforts of our industry professionals.
With a master's degree in translation and interpreting, working with five source languages, we would like you to meet Rabie El Magdouli, who has been demonstrating the excellent quality of his performance as a translator since 2013. For this reason, we can say that he is not only part of our team, he is an essential part of it.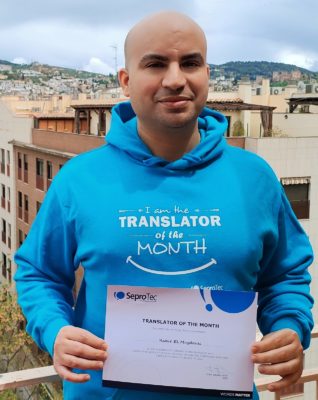 Congratulations, Rabie and thank you for taking the time to talk to us.
You work with many different languages: Arabic, English, French, Tamazight and Spanish. That's impressive! Why and how did you become interested in those languages?
My first contact with Spanish was through the Spanish television channels that can be seen in my hometown due to its proximity to the city of Melilla. Then I studied two years of primary school at the Lope de Vega Spanish Institute in Nador before my father took me out of there due to economic reasons, but my story with Spanish did not end there. Since I was a child, I'd liked video games and the video games I played were in Spanish. Also, my mother would bring me video game magazines in Spanish and I would read every page of them, word for word.
As for French, it's a compulsory subject in the Moroccan educational system from the third year of primary school to the third year of high school. Apart from that, half the programming of the television channels in Morocco is in French.
As for English, my first contact with this language was when I was 10 years old when my mother bought me a role-playing video game that was in English. I don't know if it was a miracle or not or if it was because of the contact I'd had with other languages, but I understood a lot of what appeared on the screen without having had contact with English before!
I studied Arabic as well as Spanish and French in Morocco until the last year of high school, while I learned English on my own and later studied it in Spain for four years while studying for my degree in translation and interpreting at the Faculty of Translation and Interpreting of Granada.
You did a year of law in the Faculty of Law of Granada, why did you decide to interrupt it in order to study Translation?
The truth is I wanted to do Translation and Interpreting, but there were no places left as I applied very late to the Faculty of Translation and Interpreting of Granada.
The following year, I applied again and was admitted. I finished my degree in four years, four years that flew by and in which I learned a lot about the world of translation and interpreting and greatly improved the level of the languages ​​I spoke, not only with what was learned at university, but also because of the language exchange that we did with students from other countries and because Granada is a multicultural city in which almost all the languages ​​of the world are spoken. As soon as I finished my first degree, I did a master's degree in translation and interpreting from the same university.
How did your career in Translation get started?
As for my professional career, it began a few years ago before I finished my degree. There was a relative of mine who had a translation office in my hometown and I helped him from time to time when he had a lot of work. I gained a lot of experience with him since almost all the texts he provided me were of a legal nature (the majority were consular and immigration documents). Then I took the next step and registered as a freelancer in Spain and, you know what? SeproTec was my first client ever and it is currently one of my best clients.
Really? We're so glad to hear that! What do you enjoy most about working with SeproTec?
Thanks to SeproTec, I expanded my knowledge in the legal field and I continue to expand it to this very moment.
We've heard that you've recently become a dad. Congratulations! How has this changed your life and career?
I've been married for six years and always wanted to have a child. It was quite a surprise for me and my wife to find out that we were finally going to be parents. The first months were a bit hard for us because we hardly slept since the girl would not stop crying, but now we enjoy her with each passing day. To say that we were over the moon is a big understatement! We were absolutely ecstatic, and this was without a doubt the best thing to happen to us so far.
Thank you so much, Rabie! It's been a pleasure to chat with you. And thank you for your kind words about SeproTec!