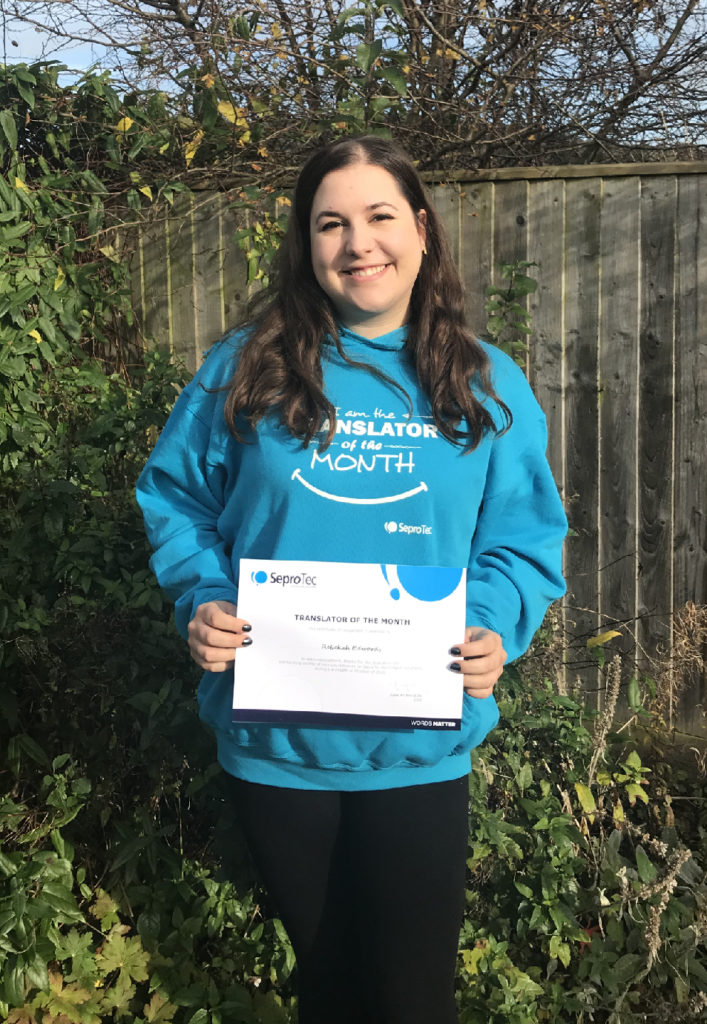 Rebekah Edwards is a relatively new translator at SeproTec but has quickly become and important resource within the life science patent translation area.  Fluently speaking 3 languages, Rebekah is the winner of our October edition of the Translation of the Month  action.
This initiative is our way to way to say thank you! and recognize the efforts of the industry professionals: translators, the driving force behind every translation company's success.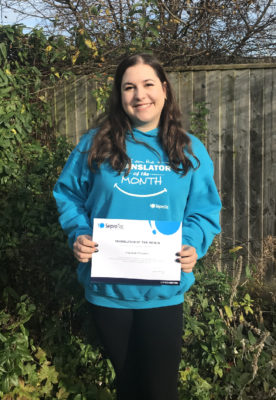 What does your dream career as a translator look like? Has it been fulfilled?
I don't know if I have a clear picture of my dream career. Before I went freelance that was my goal, especially so I could enjoy the freedom and flexibility of being able to work whenever and wherever I wanted. For obvious reasons, this year I haven't been able to enjoy much of the latter, so I'm not quite living the dream in that respect! Otherwise, I'm very happy with how things are panning out so far.
However, I'm also conscious that there's always more to learn, whether that's diving deeper into my specialisms or discovering a new one. I'm also (slowly) learning Dutch, so it would be great to add that as an additional language pair one day!
You studied an MA in Technical and Specialised Translation (medical, legal, construction, EU and journalistic fields), that's impressive! How important do you think it is for a translator to specialise?
During my MA studies I was exposed to a great variety of texts and technical fields. This taught me more about how to specialise in a specific field. It also taught me a lot about what not to specialise in and why it's not a good idea to try to do it all.
When content has been produced by a specialist in the field in the source language, I think it's important that it's then also translated by someone who knows what they're talking about in the target language!
Have you ever encountered an ethical or moral dilemma on a translation project? How did you handle it?
Not really… although there are certain areas I prefer not to work in, such as defence and military. In these cases I've just been open about this with the client, and they've generally been very understanding.
You are one of our most regular and trusted patent translators. How did you become interested in this specific field of the industry?
After I graduated, I worked in-house at a translation agency with a lot of big patent clients, so it was there that I learnt all about them and their specific style. I also had the opportunity to help them develop patent-specific style guides and glossaries, which was a great way to expand my knowledge.
I think a lot of translators find patents a little daunting, and some might say boring… Once you get to know how they work, though, they can be like putting together a puzzle, which is very satisfying.
How do you keep yourself motivated?
I find it hard to stay motivated if I'm bored or not enjoying the texts I'm working on. A variety of different projects is key! So, while I enjoy working on patents, I also like to get stuck into something a little lighter, especially if it's anything to do with food or drink.
I also find it helpful to remind myself why I love working for myself and that I never have to commute again!
What do you like best about cooperating with SeproTec?
Just how easy it is! All of the project managers are really friendly and excellent at what they do, so I can just focus on actually translating.
Thanks so much Rebekah for your time and good work. We really enjoy working with you! Enjoy your SeproTec hoodie