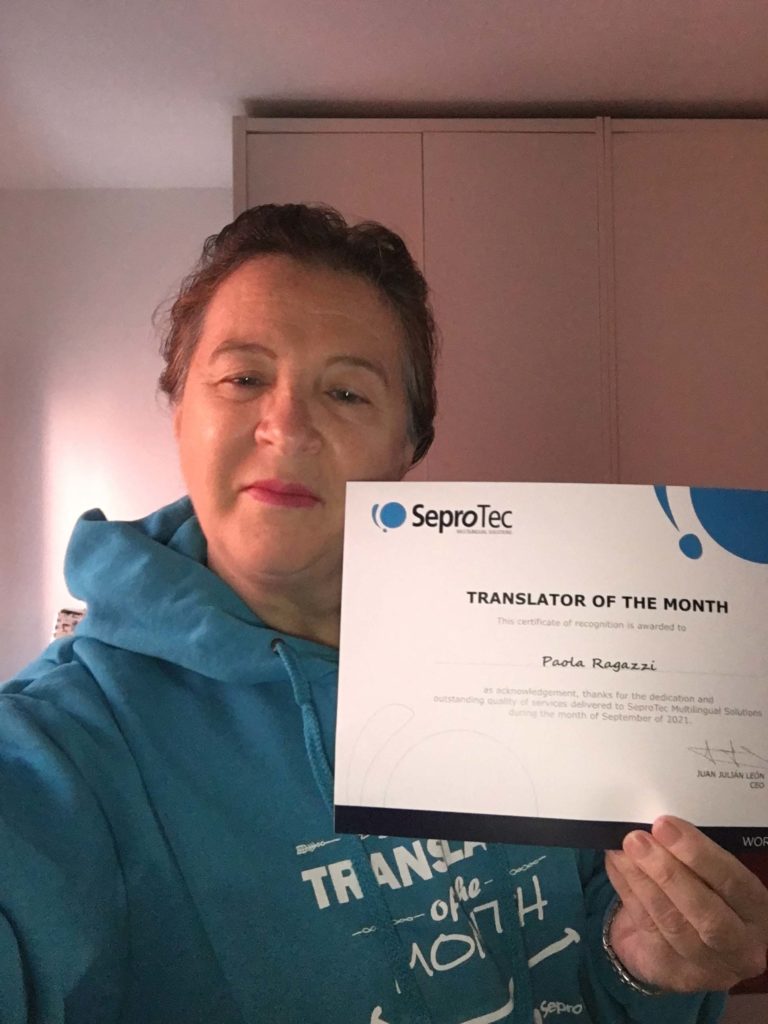 We have a great pleasure to introduce the second winner of the Translator of the Month action at SeproTec.
As a way to say Thank you! and recognize the efforts of the industry professionals: translators, the driving force behind every translation company's success, the initiative has been launched in September.
Meet Paola Ragazzi, our September 2021 Translator of the Month and read our interview with her.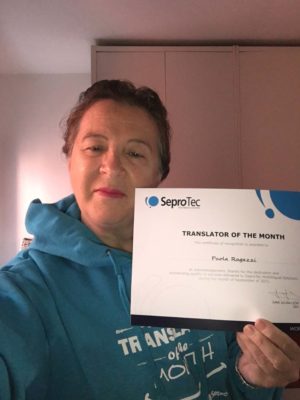 Ciao Paola,
You are one of our most regular and trusted patent translators. How did you become interested in this specific field of the industry?
I started it by chance and immediately became very interested in it, so I am glad to have had this opportunity: I had to study a lot because they are very specialized texts that require a lot of different and very technical knowledge. But at the same time, they are very satisfying because you have the most up-to-date information on the progress of science, particularly medical science where I prefer to work. I am always very interested when I work on a new patent, even if you have to add research and information to the time needed for translation.
You work with many different languages: Turkish, French, English. That's impressive! Turkish is not a very common language for an Italian native translator. How did you learn it?
I studied at the Faculty of Turkish Studies at the University of Venice, then followed a postgraduate course at the University of Szeged in Hungary and stayed in Turkey for a long time, attending university courses and working with Turkish companies that worked with Italy.
You also work as an Interpreter, you are a very complete professional! Do you prefer Translation or Interpreting? Why?
I worked a lot as an interpreter and it was very educational and fun at the same time. I can say that I travelled all over the world with the many companies I worked with. Now I prefer translation, the current health situation has brought this type of work to a standstill and so I have had to adapt my type of work as well.
Do you have a fixed schedule for work, or do you usually finish your day when your work allows you to?
It depends on the volume of work I have, if it's not too much I try to finish and go and do sports or see people, but there are times when you have to work evenings and nights and weekends. And at night you don't get all the emails and phone calls and all the other interruptions, so it's much more productive.
What is your biggest strength as a translator? And your biggest weakness?
I would say that among my strengths is the fact that I am also available to work on short-term deliveries, with rush deliveries, and that I am willing to work on 'difficult' files i.e. files that cannot be overwritten or have an unusual format. This allows me to accept jobs that represent a 'challenge'.
On the other hand, I don't like subtitling, which is a very popular sector these days, but you have to make choices, and I made this one.
Thank you so much for sharing your time with us, Paola. Keep up with your excellent work!