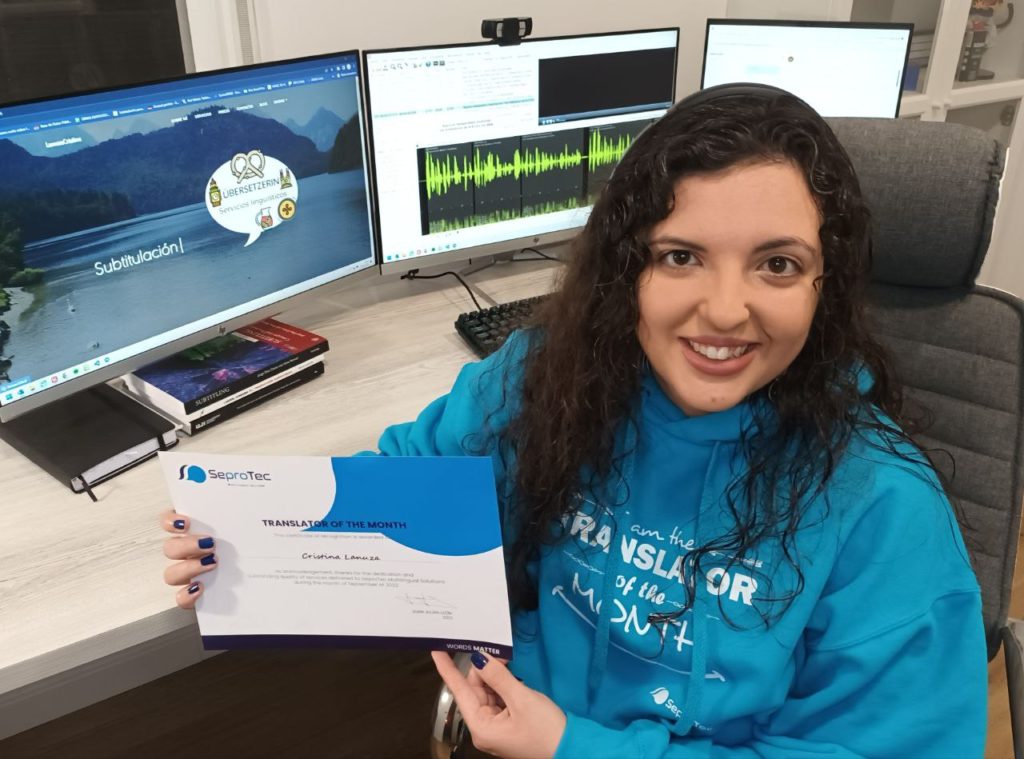 We're pleased to announce the winner of the December 2022 edition of our "Translator of the Month" action.
Translators form one of the most important pillars of the company. For that reason, this initiative is our way of saying thank you and recognizing the professionalism of their everyday work.
We'd like to introduce Cristina Lanuza, who's passionate about technology and communication. Cristina is one of our translators specialized in subtitling and transcription.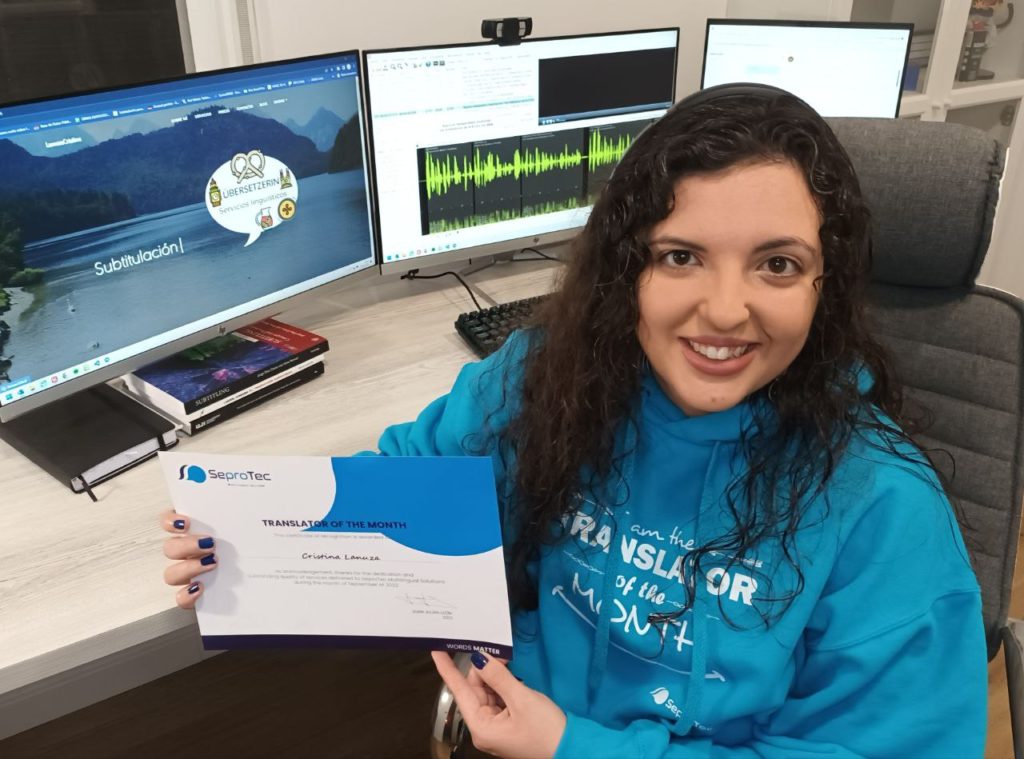 Hello Cristina,
You've only been working with SeproTec since 2020, but you've already been selected as Translator of the Month! Congratulations!
What do you enjoy most about working with us?
Thank you! What I like most about working with you is the good teamwork environment – no doubt about it.
I mean, project managers know that they can explain to me what the situation is, what the client's needs are. Based on that, I can advise them on how to divide the work or what steps to take, and they know the right people for each phase. We advise and support each other.
We help each other as much as we can, always making sure the work is done in the best way possible. Not only for a good working environment, but also for the quality of the work.
You work with many Languages: Valencian, Catalan, English, German and Spanish. That's awesome! Do you have any favourite Language combination to work with?
It's a tricky question because it's like asking who you prefer, mum or dad.
On the one hand, there's a large demand for English to Spanish projects, so it's the most solid combination, and this is important for a freelancer.
On the other hand, my main foreign language is German, so I really enjoy all the assignments I do from German to Spanish, and I feel more accomplished. But minority languages, such as Valencian and Catalan that's when I really feel at home.
It sometimes happens that we, native speakers, may not even value these languages that we speak at home, with the family, and there really are many projects in which we can do our bit. Customers appreciate it when companies speak to them like at home, in their language. Especially if it's a minority language, as I said.
In short — I'm sorry, I don't think I could choose a combination.
You specialize in subtitling and transcription. That's so interesting! Why did you decide to pursue this path?
Because subtitling brings together two worlds that I'm passionate about: technology and communication. Apart from that, it seems I'm good at subtitling, and that's a great motivator for anyone.
What do you find to be the most challenging aspect of the subtitling industry?
That's an interesting question, and there are many possible answers.
But the most interesting thing, as a professional, is to dive into a process involving people's different reading speeds and needs, , camera movements, and the great variety of screen sizes that we have today. I try to take all this into account in these projects.
What advice would you give to beginner translators specializing in subtitling?
I've heard from many industry leaders, and I agree with them, that we should be experts in the tools we use. This allows us to be more efficient and to know which tool to use in each case.
Another piece of advice I'd give is to always ask yourselves why, so it will be easier to adapt to different needs as they arise. The amount of content subtitled is constantly increasing.
And, of course, value yourself and your work! 😊
Thank you so much for taking the time to chat with us and congratulations on winning the award. You certainly deserve it.