We are more than happy to announce the winner of April 2020 edition of our Translator of the Month action.
Translators are the driving force behind every translation company's success. This initiative is our way to way to say thank you! and recognize the efforts of the industry professionals.
We would like to introduce you to Berthold Kynast, one of our most regular and trusted German-language patent translators.
__________________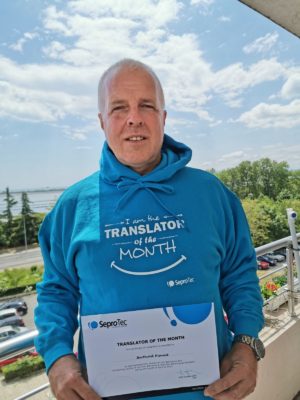 Hi Berthold,
What do you start your workday with?
Usually reading the bible, a prayer to God for success in my work, my power drink for good brain performance and concentration, a light breakfast with self-made yoghurt and fruits.
What do you enjoy the most about working as a translator?
That by doing my translation work I can always read about the most interesting new technology while being paid for this.
You are one of our most regular and trusted patent translators. How did you become interested in this specific field of the industry?
I am coming from a family of inventors myself, especially my grandfather, and from childhood I was very much into inventing technical things myself, constructing them, using them, and my first and only employment was in the patent department of a world company as a translator for translating the patents into English for the US-patent office, correspondence to the different patent offices and patent attorneys in the different countries, and competent employee for setting up the patent files from scratch with the inventors in the company. There I learnt how to write patents myself, and I set up and filed some of my inventions myself in the German patent office.
Being a freelancer, how have you been balancing work and personal life especially now during confinement?
In fact as I am working from home anyway with my Bulgarian wife, there was not changing much, only with the confinement the order volume in the first time strongly decreased and also the deadlines were becoming much shorter, most orders were quite small, and the large size orders almost disappeared since Corona, to this day (I hope this will change again). Indeed, only from Seprotec are coming orders regularly, but Seprotec is the best anyway! ❤️
It is often said that translation is an underrated job. Do you think that people understand and value this profession or are there any misconceptions?
This is clearly the case; it was for me until I got to work for Seprotec. Before, the rates were so low and the costs of living so high that I had to shift from Germany to Bulgaria (for what I am very thankful now because I am so happy here) in order to be able to live a normal life with what I was earning. Many agencies literally kind of abuse the freelancers by loading work on them which has nothing to do with the translation, which they are not even able to do professionally, but with time consuming layout work, which is decreasing the rate further. Seprotec is the first agency ever where I see a perfect professional approach to the translation field and the translators, which is also reflected in the rate and the payment delay, as well as in the contact with the Project Managers. The first time as a translator I feel valued and estimated. And this I try to give back to Seprotec with each order also in future.
What advice would you give to beginner translators?
To use personal contacts to find orders from direct customers and to join a professional translators association, this was where I was contacted from Seprotec through their database. At first, I would recommend visiting events like the SDL roadshows or other exhibitions where translation agencies are present, but to take utmost care about the conditions under which has to be done the work, and the payment as well as payment delays. Also every agency has the own preferred CAT tool, so that a beginner translator has not to buy instantly new software, I would recommend to ask the agency if they have possibility to give a free license for use of the software at least in the beginning, or if they have group arrangements for buying software at a cheaper price.
Thank you so much, Berthold!  It has been a pleasure to chat with you, thank you for your kind words about SeproTec and our team and enjoy your SeproHoodie!