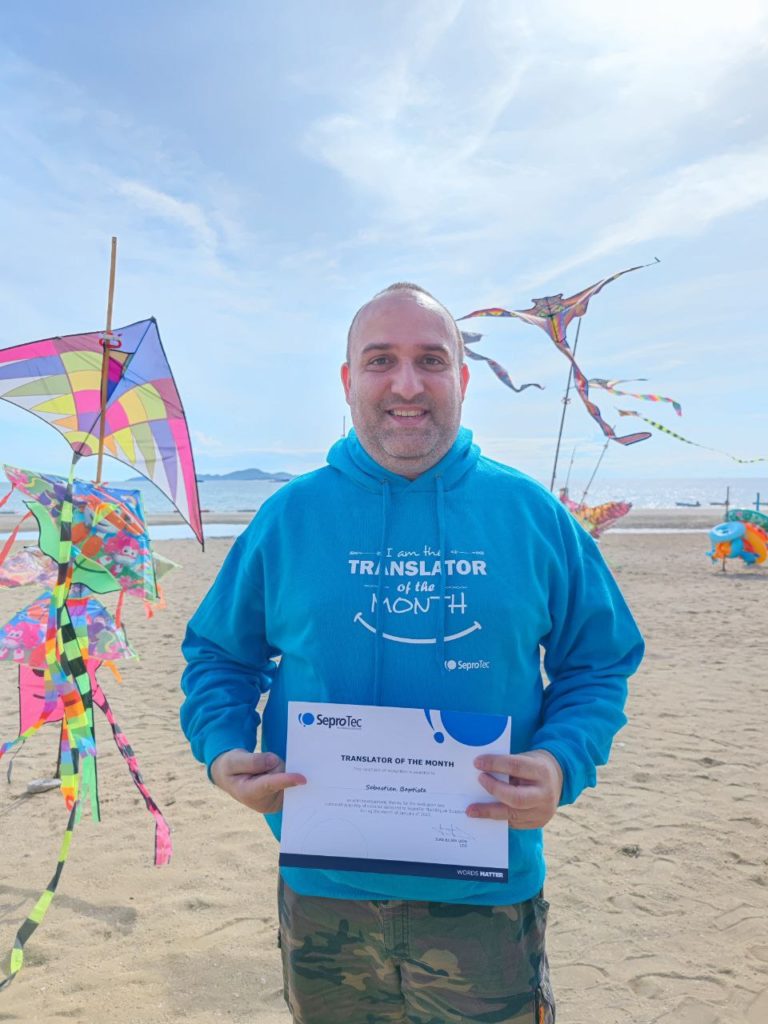 We announce the April winner of our Translator of the Month action at SeproTec!
This initiative is our way of saying thank you and recognizing the efforts of the industry professionals: translators, the driving force behind every translation company's success.
On this occasion we'd like you to meet Sebastien Baptiste, a well-known translator of this house, and we invite you to read a brief interview with him.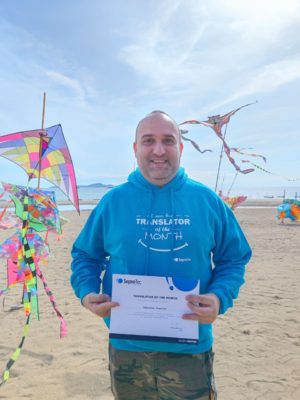 Hi Sebastien,
That sweatshirt fits you like a glove, and the beach in the background is great!
You have a Degree in Science, specialty Physics / Chemistry, that's awesome! When did you first realize that you wanted to become a translator?
I started to work as a translator in 2009 after I'd occupied different positions in several companies. Actually, I was always bored rather fast with my job, so I thought "why don't you create your own job?"…
I also wanted a professional life where I could travel between France and Thailand easily, my wife being Thai.
After thinking about it and saving a few thousand euros, I decided to become a translator. It worked well from the start, and I've never wanted to change since then.
What do you like most about working with SeproTec?
I've been working with SeproTec for nine years, I think. I love the interesting projects they give me, the PMs are always kind, available and helpful and the organization itself is very impressive, so it's an honor for me to be able to collaborate with SeproTec. I want to take this opportunity to specially thank them and the team of PMs.
As a car enthusiast, is automotive your favorite translation field? What field do you enjoy translating the most?
I think what makes this job so interesting is that we discover and learn new things every day, and it's always fun to search for information in a new area. But if I had to name one, it would be technical / mechanical / engineering translations as I enjoy this specific field.
I like to project myself in the context of a factory or a workshop for example, and imagine the machine I'm translating about… or to think about a customer who will open his new device and will have to read the instructions before being able to use it… Everything must be clear and pleasant to read.
You're also passionate about traveling! Is working remotely while traveling easy? What's your next destination?
I try to be available all year round and that means sometimes, I take projects on even when I'm on vacation by the sea for example – my favorite working place. I also remember taking on an urgent project while I was on a ferry heading to my destination. I really think I'm lucky to be able to do this job and to enjoy my professional – and private – life with teams I can trust anywhere, anytime.
I'm traveling to France in August. I'll be back home for three weeks to say hello to my parents and my friends. I like this period in Europe as the weather is hot and the atmosphere is relaxed.
Thank you so much, Sebastien!  It's been a pleasure to chat with you. And thank you for your kind words about SeproTec!