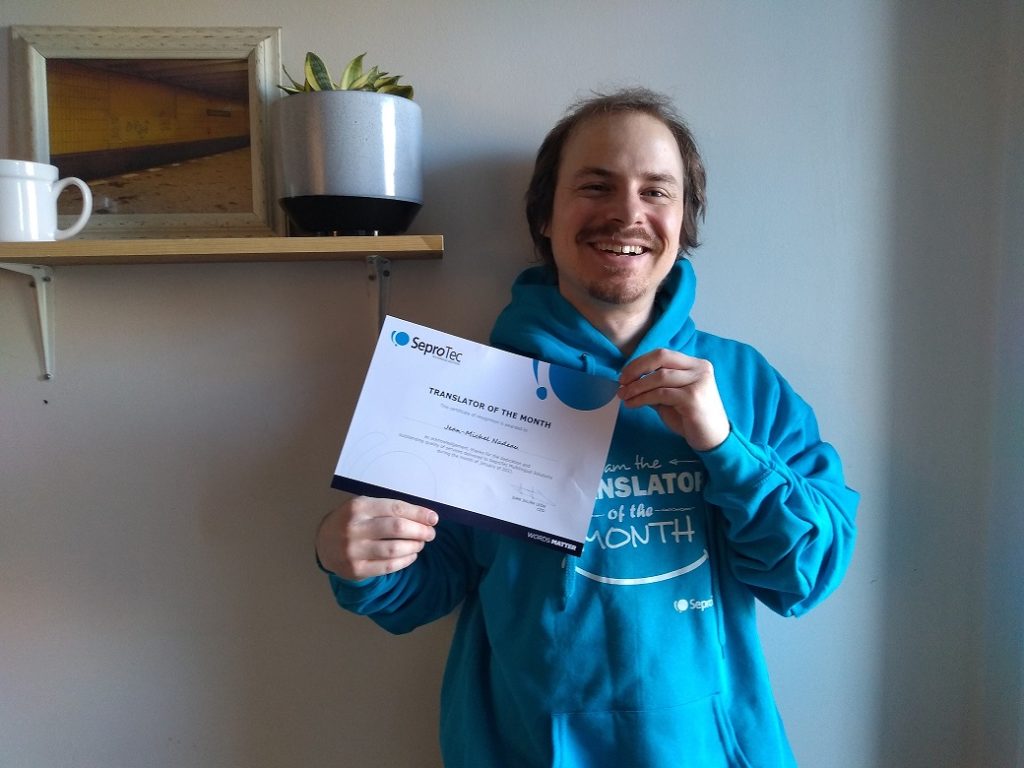 We have a great pleasure to introduce the January 2021 winner of the Translator of the Month action at SeproTec.
As a way to say Thank you! and recognize the efforts of the industry professionals: translators, the driving force behind every translation company's success, the initiative has been launched in 2017.
Please meet Jean-Michel Nadeau, our January 2021 Translator of the Month winner and a really versatile translator, who masters patent translations, marketing and IT content and even legal texts.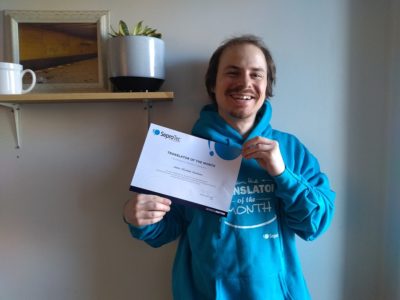 Hi Jean-Michel,
You have a minor in German studies (Germanistics) and the equivalent of a minor in Linguistics from Université de Montréal, that is awesome! When did you know that you wanted to become a translator?
I didn't choose a translator's life. It chose me. Before I could even seriously reflect upon a career in translation, I was swomped by work in the field. It took a while, but I learned to love it. I can't name any other job that allows me to work while on the beach at Santorini in Greece or at home while cooking my vegetable broth.
How do you remember your first year as a Seprotec translator?
It was a pleasant surprise! The boss at the agency where I had started out was looking to get out of the business and contracts had started drying up a bit, so I guess you could say Seprotec contacted me just in the knick of time! Seprotec has been a reliable source of work almost immediately and the fuss was non-existent.
What are the most common translation problems in the language combinations you work with?
English is a language that has no case or gender markers. It is also spectacularly syntactically unclear. For example, if I see the segment "Monitoring cameras" without any context, how do I know if I'm supposed to read it as "Cameras that are used in monitoring" or "Looking at the feed of the camera to monitor whatever it is directed at"?
As for German, well… some texts in German are basically like reading a mathematical formula. That's generally not a problem, but it can become a bit overwhelming when translating patents, for example.
You are very versatile as a translator! You translate patents, marketing and IT content and even legal texts. What field of specialisation do you enjoy the most? Why?
Although it sure does help to be specialized, it has never been easier to be a generalist thanks to the Internet. Gone are the days when being a translator meant having at home tons of references pertaining to one field. But I will say, as an avid gamer, that translating video games was the most fun I've had working.
Is the current situation worldwide affecting your work as a translator? How?
It was a bit rough for the first two months, but with demand exploding for some very online segments of the market right now I'm afraid I'm not going to see vacations for a while. It's not like I have anywhere to travel to or anything better to do, anyway!
Nice to chat with you, Jean-Michel.  Enjoy your well-deserved hoodie!